Decals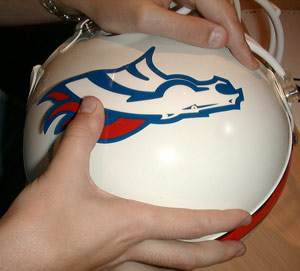 The decals category is fairly broad and somewhat vague, since so many types of prints could be described as custom decals. In reality, all adhesive vinyl prints are vinyl decals, which would include things like vehicle graphics and wraps, floor graphics, wall graphics, and more. However, this category contains the items more commonly thought of as vinyl decals such as helmet decals, decals for trucks, boats or race cars and motorcycles. Decals are excelent for branding, identification or labeling for machinery, control panels, sports equipment, vending machines, gasoline pumps, ATVs, jet skis, snowmobiles, etc. as well as bumper stickers and vinyl patches.
While removable decals are popular for a wide range of applications, there are some instances that require the most aggressive adhesive possible, such as safety or warning label decals. While any decal can be removed with enough effort and adhesive remover, these decals are considered permanent so they shouldn't be used in situations where you plan to change the decal. Many of our removable adhesive vinyls are also available with a permanent adhesive so contact us to discuss your specific needs if you don't see what you're looking for.
Decal graphics are one of the simplest and least expensive way to add logos or identification to machinery or equipment. As was mentioned previously, they are also useful for safety or warning labels, operator instructions or simply as decoration. On sports gear such as helmets, snowboards, skateboards, or bikes, decals can be used to customize the appearance of the equipment or add a team logo or identity. We have a wide selection of materials that can be used for decals, with some that are designed for very specific uses or environments. Look through the catalog for all our popular materials for decals of all types.