SEG Fabric Frames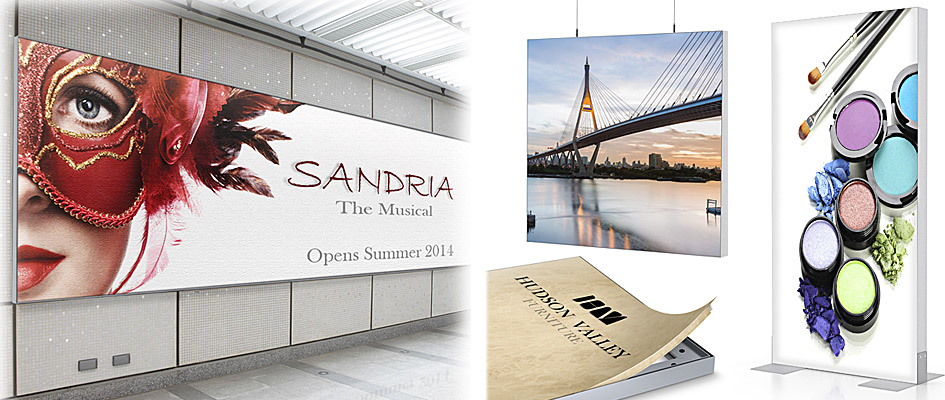 SEG Fabric Frames are a growing category of displays that allow SEG (silicone edge graphics) fabric prints to be displayed on walls, hanging from ceilings, or free-standing. SEG fabric graphics, also called push-fit graphics because of the way they are installed, are fabric prints with a strip of silicone around the perimeter. This silicone edge is inserted into a channel in the display frame to hold the graphic smooth and tight for a beautiful, upscale look. The wide range of SEG fabric frames include single sided models in different shapes and depths, double sided frames that are popular for hanging or free-standing displays where they can be viewed from multiple directions, and even illuminated frames in single and double sided models that make high-impact displays for wall mounting, hanging and floor standing applications.
SEG fabric frames are taking over as the most popular type of signage in retail environments, trade shows, shopping malls, airports, arenas, museums, restaurants, and any place where a graphic display is used. Fabric signage allows for a soft, upscale appearance thanks to dye sublimation printing that produces rich, vibrant images on fabrics with a low glare finish. This combination provides a soft, sophisticated appearance that provides an impression of enhanced quality that makes fabric prints desirable for virtually any display. Besides looking good, fabric prints are also extremely durable as the dye sublimation printing process creates a finished product that is washable, crease and wrinkle resistant, while remaining lightweight and easy to install and remove. This means that even very large graphics can be installed in minutes by a single person without any experience.
In addition to saving time and money on graphic installation, SEG fabric frames are also cost effective for other reasons. The biggest cost advantage is that because the frames break down for shipment, and the lightweight fabric graphics can be folded or rolled to a small size, shipping costs are a fraction of what they would be for a similar sized rigid graphic display. This allows for larger displays with greater impact to be used without the typically high cost of delivery, which is even more beneficial when shipping to multiple locations. The frames can be assembled in a matter of minutes on location, and the graphics easily installed. Because the fabric graphics can be quickly removed and stored for future use with little risk of damage, there can be a huge cost savings over rigid graphics that take up space and are easily damaged when removed and stored. Rather than having to choose between the cost of a new graphic, or the poor impression made by a beat up looking display, the fabric graphics can be re-installed and look as good as when they were new.
One of the big benefits of SEG fabric frames is how versatile they are. The same frame can be wall mounted, suspended from above, or used as a floor standing display by ordering the frame with a base. This makes them excellent as point-of-purchase, or POP displays, for use as wallscapes and graphics on perimeter walls, as part of window merchandising displays, and even integrated into other store displays and fixtures. Because they can be used at very large sizes, as well as for backlit applications, they are the perfect solution for high-impact displays that are sure to attract attention and engage customers.
Some of the products in this category were designed with trade show display use in mind, and any hanging or wall mount hardware is optional, while others are the opposite with wall mounting in mind. Be sure to check the options to make sure you select the correct display and configuration for your particular needs. Since these displays can be used in many ways, some of the products in this category also appear in other categories on our site to make shopping easier. Because SEG Fabric Frames can be customized to different sizes, as well as connected into a variety of floor standing shapes, if you don't find the exact display you need, be sure to contact us for assistance as there are limitless possibilities with these displays.